Meet my sister-in-laws, Sarah and Lynda, in New Orleans on November 11, 2018. Upon arrival, we caught a taxi and went to the Embassy Suites which was our home for the next five nights. After settling in, we attended the evening reception at the hotel which was not near as good as previous ones at other Embassy Suites; definitely will not depend upon it for our evening meals.
On Monday, we had an early pick up scheduled for a New Orleans and Hurricane Katrina tour but we did time for the breakfast buffet offered to all guests of the hotel. The tour company picked us up and we were off on an adventure. Our guide described the various districts of New Orleans as we drove along; we went through the French Quarter, the historic park of Jackson Square, and by the Cabildo where the Louisiana Purchase was signed. We arrived at St. Louis Cemetery with is one of the oldest in the city; we walked among some of the tombstones with the guide providing an overview along the way. Next we headed for the City Park and the Besthoff Sculpture Gardens with a stop at the Morning Call restaurant for a brief rest stop and our purchase of beignets. The last area we visited was the Lower 9th Ward where Hurricane Katrina broke the levees and swept away people/homes; there is still areas in which rebuilding is still occurring.
We were deposited at our hotel at the conclusion of the tour; after stopping in our room, we decided to walk to Riverside Mall where we picked our late lunch from the various vendors in the food court. After eating, we walked around the river front and then back to the hotel where we attended the evening reception; the food offerings did not improve from the evening before.
On Tuesday, the 13th, we did not have any activities prearranged so, after breakfast, we took off in the rain for Rouse's Market which is the leading grocer in the New Orleans area. It was fun to explore the market and compare to back home; we did purchase gifts for people back home. After depositing our purchases at the hotel, we took a walk through the Riverside Mall, walked into the French Quarter where we passed Jackson Square, explored Bourbon Street on our way to Pat O'Brien's bar for a Hurricane, a well known strong drink of New Orleans. After our drink, we proceeded to Market Street where we came upon a store called Papier Plume. What an excellent discovery! I found an ideal birthday gift for Steev. By this time, we decided on a late lunch at the Royal House Oyster Bar where we hoped to get some fresh seafood; however, we were disappointed in what was served. We continued to walk back to our hotel.
Wednesday we had arranged for an all day plantation tour with an airboat ride into the swamp. It was a very cold, rainy day but that did not stop the airboat ride from happening. Even with the bad weather, it was good trip through the swamps; however, there was no way we were going to see any alligators in the rainy, cold weather.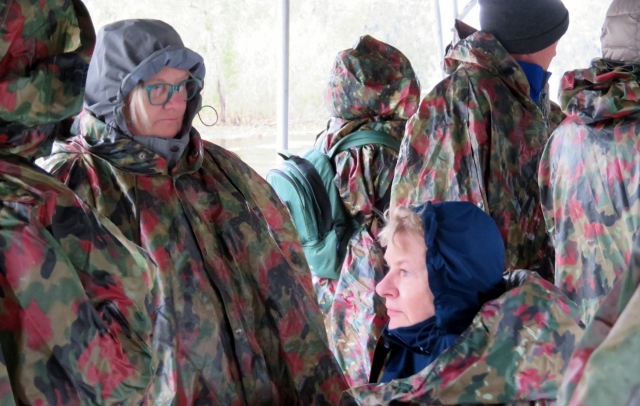 After the boat ride, we proceeded to Oak Alley Plantation where we were served a very tasty Cajun buffet lunch. After lunch, the three of us took a tour of the plantation house and surrounding grounds. This plantation is quite well known for its oak trees that lined the road from the house to the edge of the property.
Next we went to Laura Plantation where we were given a tour inside and outside. Even though it was smaller than Oak Alley, it was an enjoyable tour. Both of the plantations were very well maintained.
We headed to New Orleans and our lodging. It was early evening by the time we returned so we ordered pizza to be delivered from Magazine Pizza; it was good.
Thursday, the 15th, was our last day in New Orleans; we decided to return to the Garden District so we rode the oldest trolley in New Orleans and were deposited on the edge of the district. Our first stop was a book store where we made a few purchases including a book for a self-guided tour. Then, following the book, we explored the neighborhood which was lined with beautiful homes, schools, and churches. Next we walked to Magazine Street, known for its shops and restaurants, within the district. After asking some local shop owners where to eat lunch, we went to Red Dog Diner which has a farmhouse decor with indoor and outdoor areas; good food and great atmosphere. After lunch, we decided to return to Market Street in the French Quarter so Sarah called for Uber to take us instead of our walking. The driver dropped us off at Market Street where we continued shopping at the point we had stopped on Tuesday. All of us made some purchases; we stopped at a coffee shop because I needed some caffeine in my system. Onward toward the hotel with a detour through the Riverside Mall for a wine shop where I hoped to purchase local wine; however, it tasted awful and what did taste good was made in California so there was no point in making any purchase. When we got back to our hotel, we proceeded to pack for our departure the next day. Sarah called Uber and ordered through them for a pizza to be delivered to our hotel; it worked quite well.
Friday, the 16th, we departed for our respective homes. It was a great week of catching up with my sister-in-laws lives and making more wonderful memories with them but, like all trips, it was good to get home.