Left home on Monday, Dec. 2nd, when my sister picked me up for the airport. Flight departure was scheduled for 9:30 with arrival in Chicago at 10:30; I was to have approximately 4 hours to kill before departure to Frankfurt at 2:20. Airline carrier was United. Upon arrival at airport, I found a 2 hour delay; because to all the weather delays the previous day, the plane from Dallas could not fly until the crew received the required time off. No plane had appeared at 11:30; it finally arrived around noon after contending with a medical emergency on board before departure from Dallas. Got into ORD around 1:10 but could not disembark because the plane was slightly off the mark so another delay until the pilot ramped up the plane and coasted it closer to the hanger. Got off and quickly headed for my connecting flight which was leaving from another terminal. Got to the assigned gate and got into line for boarding. Then it was announced boarding would happen at a gate two down because plane was having some mechanical difficulty. Arrival at that gate put me toward the front of the line where we waited approximately two hours for the new plane to arrive, board flight crew, and cabin restocked/prepared for passengers. Boarding occurred and we were on our way. Arrived in Frankfurt at 7:00 instead of scheduled 5:45 a.m.which meant running to Immigration, getting passport stamped, on to luggage claim for suitcase, and proceeding to the train station where I found out what platform to stand on, and waited two minutes for the train. Got settled in my assigned compartment where I spent an enjoyable couple hours speeding thru the German countryside.
Arrived Freiburg and was greeted by Jeannette. Walked to my hotel, Motel One, where I left my luggage because room was not ready. Jeannette and I explored the markets but my attention span was not the greatest. We lunched at Mai Wok, a Thai restaurant that had decent food. After spending a few hours in the hotel lobby conversing with a couple glasses of wine, I got into my room and Jeannette left for her home. After settling in, I took a shower which felt wonderful. Allan got home from work around 6:00; they came to my room around 7:00. It was great to see him! Dinner was at Martins Brau. Back to the hotel and bed.
Wednesday morning Jeannette came to the hotel where we had breakfast before departing to shop. It was a cool but sunny morning and we had fun looking at some of the local shops and the Christmas market sheds. Allan got off work around noon or so and met us at Burgermeister for lunch. We then went to a game store where Allan selected three ides for me to give him as potential Christmas gift. They went across the street for baklava while I made my selection, purchased, and had the gift wrapped. We then went back the markets to finish up visiting the areas we had missed earlier. After we walked to the kids place, they made nachos and we played a game called Cards against Humanity, a real fun game. Allan walked me back to my hotel to close out the evening.
Thursday morning I got coffee in the lobby and had breakfast of apple, almonds, and cheese in my room. Jeannette and Allan picked me up via car and we headed to the Christmas markets at Strasbourg, FR. It was a very cool day which started out quite foggy but cleared later in the morning. We parked the car at an area outside the center and took a free tram to the markets. Then we walked, looked, walked, looked, purchased, purchased looked, and found a place for lunch at Les P'Tites Cocottes Restaurant which had very good good food in a quaint environment. And then we shopped some more finally heading to the Museum of Arts gift store only to find it not opened. So we decided to get the next tram and head back to Freiburg. However, there was quite a delay in the tram arrival due to a worker's strike so we decided to walk the 25 minutes goggle said it would take to the parking lot. Got to the car, unloaded purchases, and took off to a grocery store not too far from our departure point. Explored the enormous store and purchased a premade salad for our evening meal since I wanted to "veg" out in my room. Repacked my suitcases with purchases, had a glass of wine while eating, and spent the rest of evening updating notes and reading.
Friday was a comfortable day as far as temperature was concerned. Allan and Jeannette picked me up by the side of the hotel; we were headed to the town of Schaffhausen in Switzerland. There was fog in the air and trees had frost on them which presented a beautiful screen as we rode again. The places of interest that we saw was Rhine Falls and Castle of Lauren which was located on a rock fortress above the falls. We ate lunch at a restaurant near the falls. On our way back to Freiburg, we took in the Ravenna Gorge Christmas market. It was a very beautiful sight with the market stalls under the arches of the railroad bridge. After the sun went down, the arches changed color every so many seconds. We took the bus back to where we parked our car and headed back to Freiburg. Got pizza at an Italian place down from my hotel called Pulcinella. It was good and very filling. The kids headed home and I walked back to my hotel where I settled in for the evening.
On Saturday we took the train to Staufen for another Christmas market and lunch at a cheese house in which Jeannette had made advanced reservations for 1:00 p.m. which was good because they were quite busy. It was called Restaurant Käsestube; we had red pepper fondue that was delicious. We wandered the market, which was very busy, and returned to Freiburg on the late afternoon train. We had been so busy since I arrived that I told the kids I wanted to "veg out" that evening. Had an apple and cheese for dinner while reading; a relaxing, restful evening.
The kids picked me up outside the hotel on Sunday, the 8th, in the morning and we headed to Colmar. There was a wine tasting at the exhibition hall there; Jeannette and Allan had free tickets to get in. We went to approximately five booths before saying "enough"….there were only about 40 vendors we did not try. Allan and I had lunch at the tasting before leaving for the Christmas markets in the square of Colmar. It was a wonderful time but really packed with people shopping the markets; bumper to bumper traffic! Would not mind going back there during a time of less crowds. We headed back to Freiburg, went to the kids place, and then to a Greek restaurant called Ouzeria. Good food and good atmosphere.
Monday was a slow start; I slept in and then went across the street for breakfast at Leo's Bakery & Cafe. I spent time packing up all the purchases I had made so far and was happy to know everything would fit. Jeannette and Allan came around noon; they brought some packages for me to mail once my trip ended. After lunch at Maria Bar we walked to the science store, toy store, and a place where they picked up a package that UPS had tried to deliver. Another early evening; I picked up a sandwich at Leo's and ate it in my room while packing the items brought by the kids. Since Tuesday was my departure day, I got all my luggage organized.
On Tuesday, we left the hotel on foot around 10:30. Our goal was to walk up Schloßbergring Hill which has an amazing view of Freiburg and surrounding countryside. Our first stop was Kanin square and we then proceeded to the top. After taking many pictures, we walked to Mai Garden for a Thai lunch; the kids likes this place and I can understand why. We retrieved my luggage from the hotel and walked to Café Bar Coucou for a glass of wine before departing to Frankfurt on the 4:00 ICE train. Boarded the train and arrived at the train station in Frankfurt without incident. Gathered my luggage and walked to the Sheraton within the airport where I had a reservation for the night. Got into my room, and left to explore the airport. Found the Lufthansa counters, got my boarding passes for the next day, and went to the Sports Bar for dinner.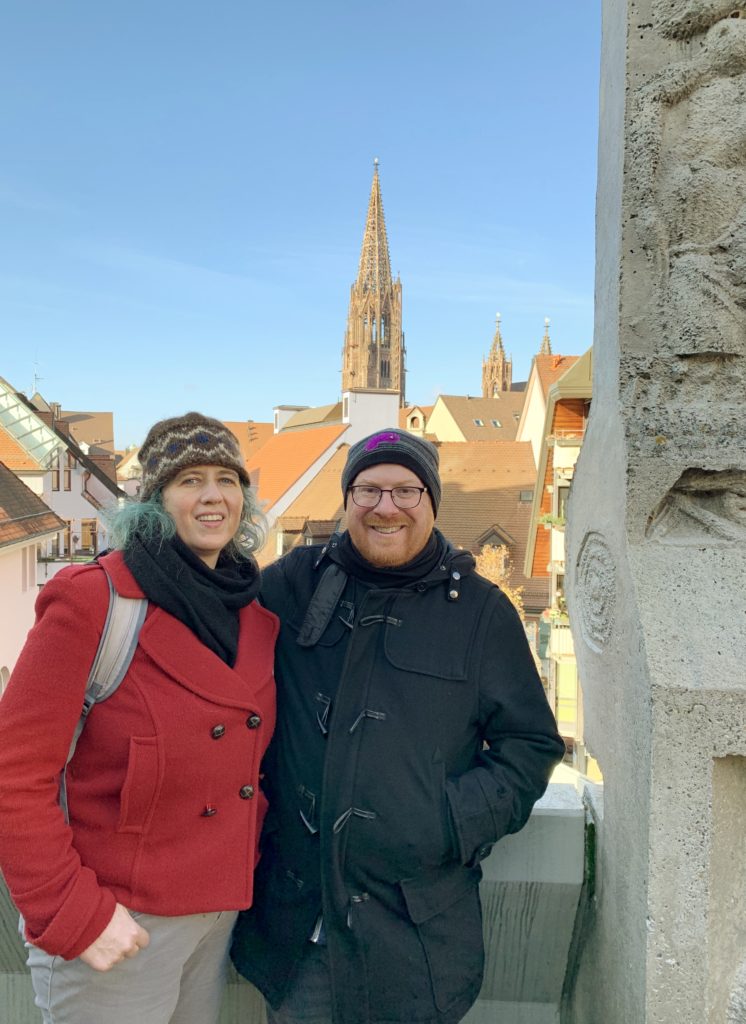 Wednesday I was up quite early, after a shower, I took my luggage to the Lufthansa business class counter for checking, returned to the Sheraton for another sweep of the room, and check out. Arrived back at the airport where I went through Passport Control and Security. Purchased a couple items in order to spend the small amount of Euros I had. Went to the Lufthansa Business Lounge for breakfast and hanging out until my flight at 10:45. Boarded the flight without incident and winged our way across the pond to the good old USA. It was great to be able to finally experience the European Christmas Markets; my thanks and love go to Jeannette and Allan for being wonderful, fun hosts.