Last October, the Iowaonians met in Bella Vista for a week of adventure. Joyce played hostess to the group, and we rented a house next to the one that had been owned by George and Joyce. We all arrived on Monday, October 18, and departed for home on Sunday, the 24th. Carol drove her 7-passenger van so we could ride together for our adventures; her and I arrived at the rental around 3:00 or so in the afternoon. The rest of the day plus evening was spent settling into the rental while exploring the grounds. Joyce had prepared our evening meal of spaghetti and garlic bread.
After a good night sleep, we had coffee at the house and went to breakfast at Duffer's. After breakfast, we went to Pea Ridge National Monument Park and War Eagle Mill where we ate a late lunch. Back to Bella Vista for grocery shopping for supplies; that evening, we fixed Mexican Chicken Lasagna with Salad and Margaritas.
Wednesday, the 20th, found us on our own with Joyce taking the day "off". We made breakfast at the house and, after cleaning up, went to Tanyard Creek Nature Trail for a wonderful walk through the woods and to a waterfall. Then the rest of the day was spent looking for breweries and quilt shops. We did find a bar and grill for lunch which had craft beers available for everyone's tasting pleasure. Joyce was at her church in the late afternoon for practice with the hand bell choir that she directs; we paid a visit to the practice session. That evening we had brats along with Nacho Pie at the house.
Thursday we gathered at Joyce's place before heading to breakfast at the Buttered Biscuit because Joyce bringing her good friend, Joan, to breakfast with us. After eating and taking Joan home, we headed to Bentonville where we explored the town. Points of interest was Museum Hotel which is very unique and a tour of the Walmart Museum. Afterwards, we headed to Crystal Bridges Museum which has a world-class collection of American art, stunning architecture, Frank Lloyd Wright House, and 120 acres of forest with 5 miles of trails. We ate in the cafeteria along with having drinks while waiting for our time slot to walk through the nighttime lighting experience called North Forest Lights; a multimedia and entertainment studio had created and produced exclusively for Crystal Bridges a five light-and-sound installations that brought the soul of the forest to life. It was well worth the wait!
Friday morning we headed to Gentry, Arkansas for brunch at the Wooden Spoon Restaurant and Bakery; very good! After eating, we went into Brambles and Bailey Handmade Gift Store next to the restaurant. Then onward to the Wild Wilderness Safari. We were able to walk around the various pens filled with different animals and then took a 4-mile drive through the park. It was a fun experience. Back to Bella Vista and the house, where we had left-overs for our evening meal.
On our last full day in Bella Vista, we took a tour of the town. Stopped at the Bella Vista Historical Museum; many of the exhibits focused on the Linebarger Brothers who founded the 1917 Lake Bella Vista Summer Resort and the Cooper era covering years 1965 to present. Joyce directed us to the Veterans Wall of Honor which was created to honor America's veterans who contributed in securing the freedoms we enjoy today. We visited The Bluebird Shed which has a great collection of bird feeders, wind chimes, decor, and gift items; I purchased a hummingbird feeder that applies to a window. We went back to our rental; after contacting the person next door who had purchased Joyce and George's house, we went there for a tour of the inside and then went outside to the dock where we had a toast to George while placing some of his ashes in the lake. That evening we had a farewell dinner at the Lakepoint Restaurant. We said our farewells to Joyce that evening.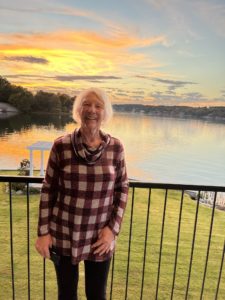 Sunday morning was early rise for all with the Fosters and Knapps having early flights out of Bentonville and Carol/I having an 8-hour drive to home. It was a great week filled with new adventures, lots of conversation, and great bonding with very special friends.